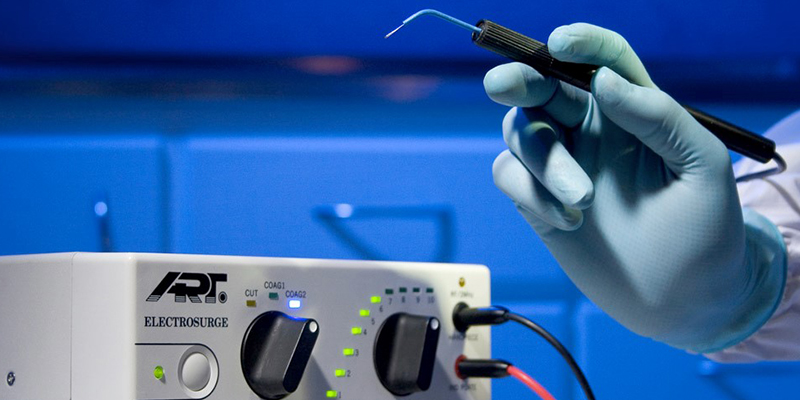 Curettage and Electrodesiccation (C & D) is the scraping and burning of the skin to remove the cancer cells. It is most suitable in non-crucial areas such as the trunk and extremities where small scars would not be as noticeable. The borders of the lesions must also be well defined. In certain situations where lesions have spread into deeper layers of skin or when there are recurrent lesions, C & D is less effective. When surgical procedures would not be tolerated well, such as an elderly patient with multiple skin cancers, this technique is often preferred.
About Curettage and Desiccation
Curettage and Electrodesiccation (C & D) is used primarily for the surgical removal of:
Benign skin lesions including warts, angiomas, and nevi
Precancerous lesions including Actinic Keratoses, dysplastic nevi, or atypical moles
Small skin cancers such as basal cell cancers and cutaneous squamous cell carcinomas
C&D delivers a high cure rate, and is considered an efficient and cost effective treatment option for skin cancer. However, when C&D is used to cure cancer, follow up care is required, because there is a chance of recurrence if all the abnormal cells are not destroyed. If there is recurrence, a biopsy or more advanced techniques of removal may become necessary.
The Procedure
During Curettage and Desiccation, a small injection of local anesthetic will be applied to the lesion and the area surrounding the lesion. The surgeon will use a curette (spoon-shaped, sharp instrument) to remove the abnormal cells by scraping down to a layer of uninvolved tissue. Once the skin cancer has been removed, desiccation (electrosurgery) is performed with a small, metal instrument.  This part of the procedure uses bursts of electrical current to burn and cauterize the remaining skin, increasing the chances of success and minimizing any bleeding caused in the scraping process. The wound is left to heal without being sutured. It usually heals over several weeks.
After Curettage and Desiccation
Your surgeon will schedule a follow up appointment after Curettage and Desiccation has been performed. At that time, you can discuss a maintenance or skin care plan to promote healing and reduce the chances of recurrence. If it is appropriate your dermatologist may recommend an adjusted schedule for regular skin checks, certain skin care products, or a visit with a medical esthetician for after care. It is imperative to follow the instruction of your surgeon after skin cancer treatment.
Have You Been Diagnosed With Skin Cancer?
Contact us today. SCARS Center specialists in Newport Beach will work with your dermatologist to create a customized treatment plan for skin cancer cure and aftercare.
Stay up to date
Receive research updates, inspiring stories, healthy living tips and more.
WHY CHOOSE SCARS CENTER?
SCARS Center is home to some of the most widely respected dermatologists and plastic and reconstructive surgeons in Orange County.
Receive research updates, inspiring stories, healthy living tips and more.
Orange County's Premiere Skin Cancer Treatment Center