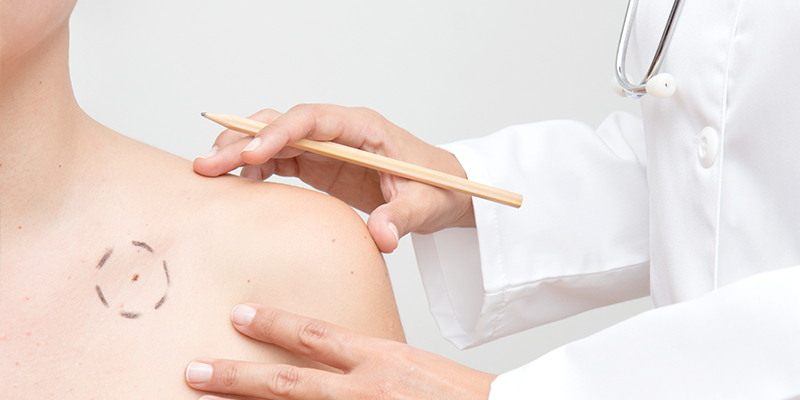 An excision with frozen section is a skin cancer treatment technique that involves cutting out the skin cancer and evaluating it under a microscope to determine that all of the cancer has been removed. It is different from Mohs surgery, because larger areas around the tumor are taken during the excision, the microscopic evaluation technique of the tumor is slightly different, and any surgeon (including a plastic surgeon) can perform the excision. It is also more effective than removing a lesion and sending it to a lab for evaluation because the diagnosis is done in real time, meaning the patient can be confirmed cancer free the same day as the initial appointment. 
About Excision With Frozen Section
Before excision with frozen section, a surgeon will numb the general area of the tumor. The lesion will be removed, and provided to a dermatopathologist to evaluate the tissue.
The dermatopathologist will freeze, cut, and dye the specimen before evaluating it under a microscope to confirm all of the cancer has been removed. If cancer is present after the initial surgical removal and evaluation, additional sections of the skin will be removed for evaluation. Once the patient is confirmed cancer free, the surgeon will close the open wound.
Excision with frozen section is ideal for skin cancers that are not located in ultra sensitive areas which are best suited for Mohs surgery. While Mohs surgery preserves more skin and provides a greater reliability of complete excision, it can be expensive, time consuming, and unnecessary in certain, less cosmetically sensitive areas.  Likewise, excision with frozen section is not necessary for every lesion removal. The routine removal of a mole, for example, is often sent to a lab for pathological evaluation. 
After Excision with Frozen Section
Once a patient is confirmed clear of cancer, a surgeon may choose to close the wound, or refer the patient to a plastic surgeon for a more advanced, cosmetically appealing closure. Patients will be bandaged and provided with after care instructions. In addition, a surgeon may discuss products for skin care maintenance and sun protection or silicone sheeting to prevent scarring. It is very important to follow the recommendations of your surgeon during the healing process.
Have You Been Diagnosed With Skin Cancer?
SCARS Center specialists are experts in the industry of skin cancer management and plastic surgery. Seek a professional opinion for a customized treatment plan today.
Stay up to date
Receive research updates, inspiring stories, healthy living tips and more.
WHY CHOOSE SCARS CENTER?
SCARS Center is home to some of the most widely respected dermatologists and plastic and reconstructive surgeons in Orange County.
Receive research updates, inspiring stories, healthy living tips and more.
Orange County's Premiere Skin Cancer Treatment Center