A Cosmetic Procedure Reveals Skin Cancer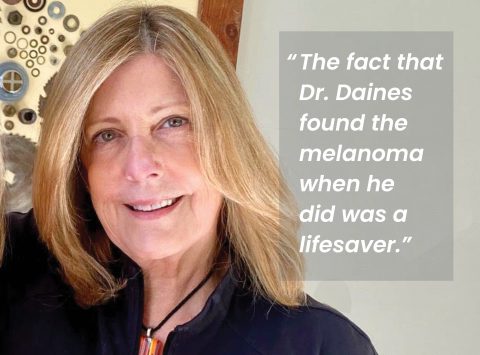 A former teacher in her sixties came to Dr. Steven Daines for a CO2 laser treatment­ to diminish her fine lines and brown spots. She had no idea how important this visit would become.
While prepping her for the laser procedure, Dr. Daines noticed a tiny black mark on her cheek. "I thought it was a beauty mark," she joked. As a facial plastic surgeon who performs both cosmetic and skin cancer surgeries, Dr. Daines knew it needed to be biopsied.
When the results of the biopsy came back as melanoma, she was shocked. With her skin still glowing from the laser skin rejuvenation, Dr. Daines excised the melanoma and sent the tissue to a lab to confirm that all of the cancer had been removed.
"How is he going to make my face look okay?" she wondered. "I sew, so I know what it looks like when things aren't stitched nicely."
The defect in her cheek required a complex surgical closure­—a rotation advancement flap. This type of flap pivots nearby tissue around an axis to close a defect, essentially rotating the skin.
"Dr. Daines is a lifesaver," she says. "The reconstruction was so good that you really have to look for the scars." And the bonus­—after the laser treatment, her skin is clearer with fewer lines and brown spots.