"My experience at the SCARS Center has been, I believe, life saving"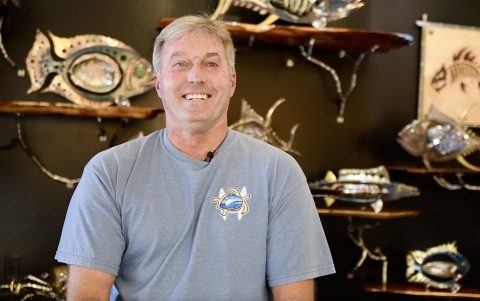 "I've got some good news, no more cancer." Dr. Adam Aronson calmly said to Wade Jackson. A dermatologist and Mohs surgeon, Dr. Aronson confirmed that all cancer had been removed from Wade's lower eyelid, through the process of Mohs surgery, where layers of skin are removed and viewed under a microscope until cancer cells are no longer present.
Wade was then ushered next door to the SCARS Surgery Center, where oculoplastic surgeon Dr. Justin Karlin reconstructed the eyelid tissue. Although the news was good, it was just one more step in Wade's years-long dance with skin cancer.
Four years earlier, he was at the SCARS Center having skin cancer removed from his nose, also with Mohs surgery. The deficit was so large that it required an extensive reconstruction by plastic surgeon Dr. Simon Madorsky. Not just one operation, but a multi-stage process was required to rebuild that part of Wade's nose (see page 3).
When asked what he thinks led to these cancers, Wade is quick to respond. "Well, it was simply a lack of knowledge. Back in the late 60s and 70s, the only time we would apply anything was after we were already burnt to a crisp." Years of outdoor sports and surfing, and then sun exposure while serving in the US Coast Guard sealed his fate.
"Dr. Madorsky had to perform major reconstruction on my nose, and did so with amazing results. This man is truly an artist."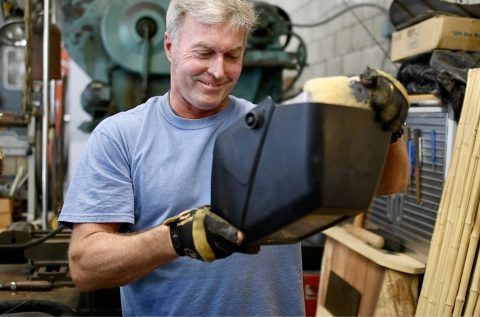 Quite a compliment from Wade Jackson, who is himself a professional artist.
When a traumatic brain bleed in 2007 upended his life, Wade was unable to return to the business that he and his family had built. He started to sculpt as a way to get his brain working again. With knowledge of welding from his Coast Guard days, Wade utilized metal and stone as his primary media. A passion for all things aquatic inspires his work. While he still struggles with analytical thinking, the creative side of his brain took off.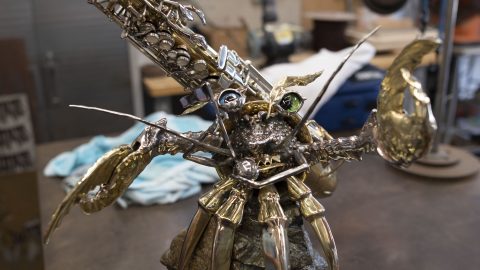 By 2013 he had created enough works to sell, and was accepted to the Festival of The Arts in Laguna Beach. "This was my breakout."
When he met Dr. Madorsky in 2017, little did he know the impact they would have on each other. Over the many months of reconstruction and healing, they developed a connection. "At some point, Simon became a friend," said Wade.