This was a chapter, but it's not my story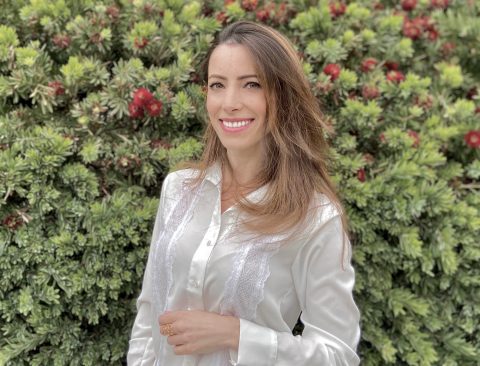 If working towards a PhD at UC Irvine was not enough, Klebea was also planning her wedding in Brazil. Wedding photos would be memories for the rest of her life. She was hoping to improve the unsightly scar on her cheek, a painful reminder of a past skin cancer removal.
She was referred to Dr. Simon Madorsky for scar treatment. During the office visit, he noticed something more ominous on her nose. Two separate nasal lesions were biopsied, and both were found to be basal cell carcinomas. As cancer treatment was planned, he treated her scar with injections and a topical scar cream. The cheek scar improved in time for the wedding, but the subsequent skin cancer surgery loomed large in her mind.
The plan was to undergo Mohs surgery­—a process that gradually removes skin involved with cancer, layer by layer, while sparing the surrounding healthy tissue, all in the same day. Each layer removed is examined with a microscope to track the cancer cell invasion. This process is repeated until no more cancer cells are seen. 
Dr. Jonathan Baron performed the Mohs surgery. It took six layers to achieve cure. "He kept taking more layers, kept coming back. It was deeper than expected. I felt like 70 percent of my nose was gone." Indeed, a large portion of the nose was lost to cancer. "We had discussed types of reconstruction, but I knew we would have to wait until that day to know the options." When Dr. Madorsky told Klebea that a forehead flap was required for reconstruction, she started to cry.
Three months later, after the nose was fully healed, Klebea was not only cured, but free to live her life—finish her PhD, and enjoy being a newlywed. The SCARS Center team helped Klebea look her best for the wedding day and for every anniversary to come.